Where should you go to enjoy art if you have already visited Estonia's biggest art museums several times?
For art lovers wandering around Tallinn and Harjumaa, who have already discovered each of the branches of the Estonian Art Museum, we recommend taking a trip to the home of Estonian sculpture superstar Amandus Adamson, as well as exploring the history of applied art and design, and, of course, photographic art, which is represented in several fascinating galleries.
Amandus Adamson Studio Museum: look into the eyes of Russalka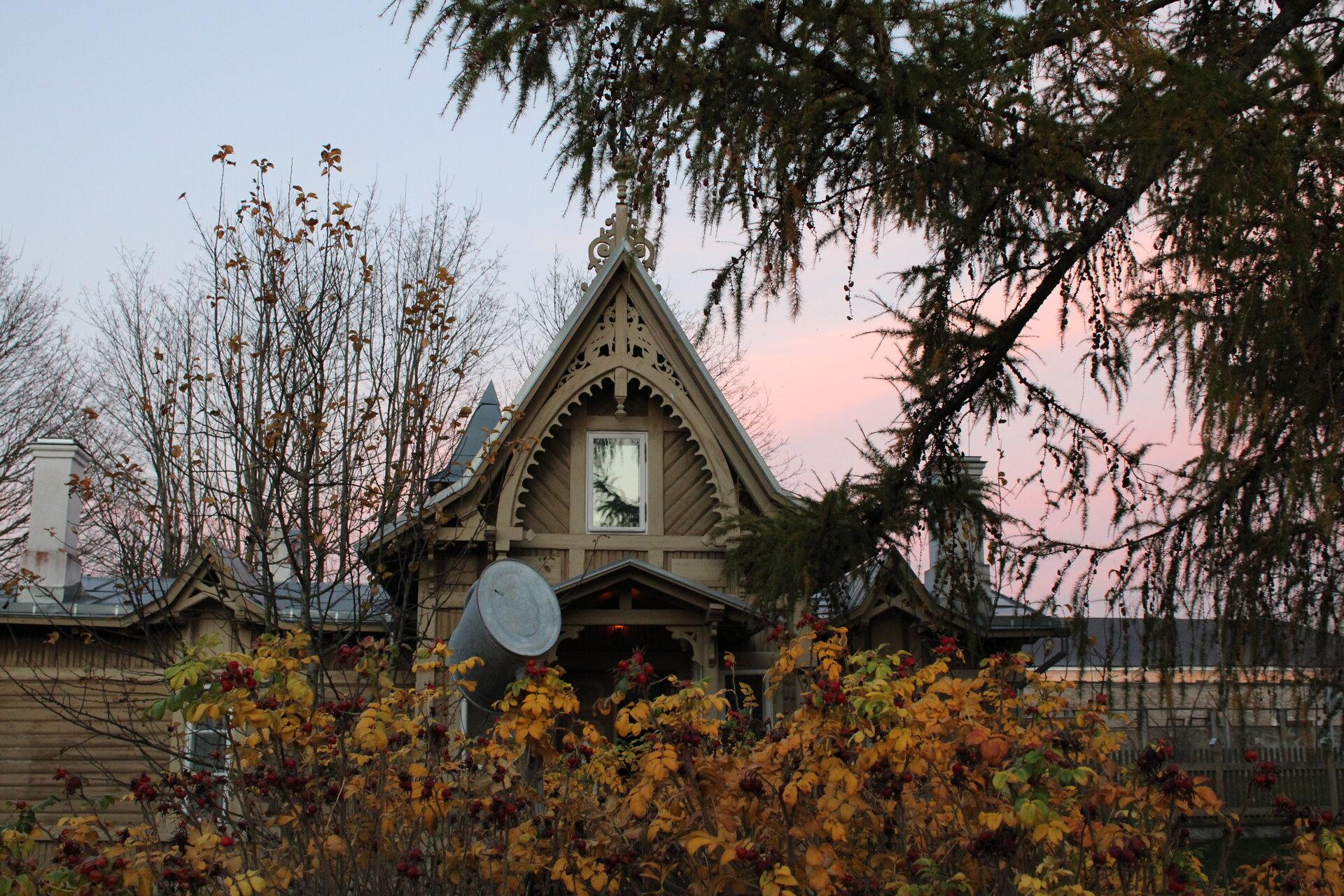 At first glance, it doesn't seem logical that taking the train to Paldiski is the best way to see Russalka, the angelic female figure overlooking Tallinn Bay, which is the most famous sculpture by Estonia's most famous sculptor Amandus Adamson. But it is in this former military town that the Amandus Adamson Studio Museum, with its crazy architecture, is hidden in the shadow of Soviet-era five-story silicate brick building. The 3D images of his famous sculptures found here make the impossible possible – allowing you to look deep into the eyes of Russalka.
Here, in the former summer studio of the sculptor, you can explore his personal items, books, and photographs, and familiarize yourself with his artwork, which is exhibited digitally. Even if the sculptures, which are located all over Estonia and belong to the collections of many different museums, could be brought together to Paldiski, there would still be no way to display them: the studio is just 60 square meters. Yet it still holds 11 different rooms! There is no indication that Adamson involved a professional architect in the design of his studio and looking at the floor plan, it also seems highly unlikely.
Next to the studio house, there is a modern building that houses changing art exhibitions.
The Photo Museum: modern art reveals itself behind the shadows of old exhibits
The history of the former prison building behind Tallinn Town Hall dates back to the beginning of the 14th century, but its contents are much newer, starting from the 1860s – as the first photographs taken in this region date from this period. Walking through the history of photographic art in Estonia is a good introduction to the gallery, which is hidden in the basement of the museum. It is an exciting exhibition space where the best of contemporary photography is displayed in curated exhibitions, and sometimes also includes photographers from abroad.
Juhan Kuus Documentary Photo Centre: everyone has a documentary photographer hidden in them
The name Juhan Kuus, whom the Documentary Photo Centre is named after in Telliskivi Quartier, may be unknown to many in Tallinn. Proving once again that "no prophet is accepted in his hometown". Juhan Kuus (1953–2015) is one of the most internationally recognized documentary photographers of Estonian origin, who lived and worked in South Africa. Exhibitions of Kuus's works travel around the world, although some of his work can also be seen here. The Photo Centre hosts works from both Estonian and foreign photographers whose exhibitions have already gained international attention.
Upon visiting, you can learn how anyone who has passionately clicked pictures during a class excursion or a friend's birthday has the potential to become an acclaimed documentarian.
The Estonian Museum of Applied Art and Design: oh, I have this piece at home too!
The museum's permanent exhibition Introduction to Estonian Design is the world's only permanent exhibition dedicated to Estonian design. The story, presented through significant objects, ranges from Luther's plywood factory to the Soviet-era Estoplast factory of plastic items, and from experimental furniture to Marit Ilison's fashion. The Estonian Museum of Applied Art and Design introduces visitors to a multi-layered world that affects our lives much more than we might realize in our day to day. Walking around the exhibition, you may often hear someone nostalgically exclaiming: "Oh, I have this thing at home too!" There is plenty to discover both at the Introduction to Estonian Design exhibition and at the Collected Works permanent exhibition, which is dedicated to applied art.
In addition, two temporary exhibitions can be seen in the museum.
Kai Art Center: History is being made in front of our eyes
The Kai Art Center, located in the Noblessner Harbour in Tallinn, is not a traditional museum, but it is a place where Estonian art history is being made in front of our eyes. Kai is an international art center, the most important part of which is the fantastic art gallery where the most well-known and hottest upcoming names in Estonian art present their works.